Dental implants are a great way to replace missing teeth and also provide a fixed solution to having removable partial or complete dentures.  Implants provide excellent support and stability for these dental appliances.
Dental implants are artificial roots and teeth (usually titanium) that are surgically placed into the upper or lower jaw bone by a dentist or Periodontist – a specialist of the gums and supporting bone.  The teeth attached to implants are very natural looking and often enhance or restore a patient's smile!
Dental implants are strong and durable and will last many years.  On occasion, they will have to be re-tightened or replaced due to normal wear.
Reasons for dental implants:
Replace one or more missing teeth without affecting adjacent teeth.

Resolve joint pain or bite problems caused by teeth shifting into missing tooth space.

Restore a patient's confident smile.

Restore chewing, speech, and digestion.

Restore or enhance facial tissues.

Support a bridge or denture, making it more secure and comfortable.
You have your dental implant, excellent… Now what?
Next, you will need to restore your dental implant so that it looks and functions like a tooth! Your surgeon will provide you with parts for the restoration; once you have been cleared by your oral surgeon to commence restoration, you can call us to schedule your Implant Crown or Implant Bridge restoration appointment. Be sure to bring these specialty implant parts to your appointment, and we will complete the implant process for you! Many implant crowns and implant bridges can be made here in the office and may qualify for CEREC Same-Day Dentistry!
Implant Crowns
Implant Bridges
Custom Abutments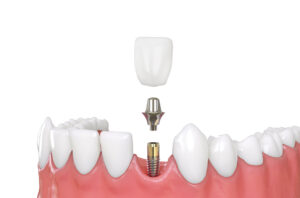 If you have questions about dental implants or would like to schedule a consultation, please contact our office.